The Power of Positive Thoughts
Your thoughts are an influential force in the creation of your life experience on Earth. For instance, you can choose to admire and appreciate the beauty that surrounds you rather than focussing on the traffic jam you are in or look for admirable traits in those who you deal with every day rather than focusing on how badly they behave. And that is the power of positive thoughts. By choosing how to understand and define each moment with your thoughts, you create your own reality!
Being aware of your thoughts
Have you ever noticed how our interpretation or misunderstanding of a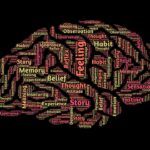 situation defines how we act and that our experience of this can change in a heartbeat? The present moment is our only true reality so this is where your focus should be and positively harnessing your thoughts can create a positive reality. Life doesn't just happen to us; we allow our lives to be shaped by our thoughts!
Learn to control the character of your consciousness when you become more aware of your patterns of thoughts, whether they be positive or negative. Train yourself to be cognisant of your thoughts. Remember that the negative thoughts that cross your mind are fleeting and do not truly represent who you are. In time this awareness that you nurture within, will ultimately allow you to create a foundation of positivity from which you can build a more authentic life.
You are the product of your thoughts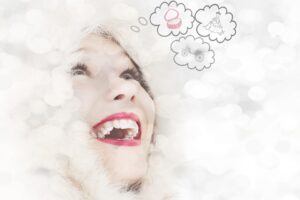 That's right "You are what you think" just let that statement sink in for a moment. You are in control of your own thoughts and as our minds are very powerful things you become what you think you are. You can create the life you want, simply by thinking the right thoughts.
Humans are nothing if not creatures of habit, we tend to follow the image in our minds created at a very early age by our parents, the neighbourhoods we grew up in and the part of the world from which we were born in to, whether that's good or bad!
However, each one of us has a mind of our own, capable of imagining how we want our lives to be. You can choose to say "yes" or "no" to infinite choices every day of your life. The most successful people in life generally say "yes", opening their lives to all kinds of possibilities because they have the belief within themselves that they can make real change in their lives.
Start visualising how you want your life to be. See the image in your mind's eye and think of that picture in your mind consistently all day long. Believe in it. Believe in yourself.
You will begin to notice that with your image in clear focus you will make new and different life choices, these are all small steps in the right direction. Try not to deter from the obstacles that may pop up along the way rather learn from them and remain steadfast in your end goal, creating a life you want.
Before long you will become what you think about, all day every day.
The power of positive thoughts
Every morning when we first awake we have an opportunity to harness our thoughts for the day ahead and start it on a positive note. These thoughts set the stage for all that comes your way during the day, like an opening scene in a play if you will.
At the precise time that you open your eyes and connect with the world you have the powerful ability to create your reality and fill your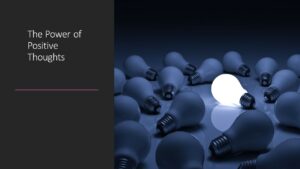 thoughts with that what inspires you the most, whatever that may be. By bringing this image into your mind at this precise moment, you permit the image to be the controlling belief of your day.
Or, you may decide before you go to sleep how you want the next day to pan out, some call this prayer, others call it visualisation and others still affirmations. Once you have awakened and summoned this image to your mind you can reaffirm this vision throughout the day at varies intervals, in the show, having breakfast, on the commute to work, eating lunch etc.
Sometimes it might be easier to write it down and carry it with you, stick to your bathroom mirror, or kitchen fridge wherever your eye line is likely to be, constantly being aware of your vision allows you to become an active participant in creating your own life.
Pure thought
When you can hold a thought in your mind without distraction you have achieved pure thought. In turn when you have a positive emotional response to that thought, you can enable it to breathe itself into your existence. The longer you are able to hold a positive thought, the stronger the energy associated with that thought becomes.
If you take a moment to analyse your thoughts without controlling them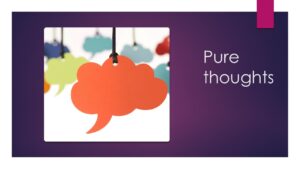 you will find that they are chaotic and move in all different directions, leaping from one thought process to another and being totally unpredictable and without any real purpose.
Now try focussing and applying your mind to a specific topic one that holds your interest, watch how you can gather your thoughts together without distraction and focus on the topic at hand. This creates great power and energy and because it is un distracted it is known as pure thought.
Pure thought is akin to the body and the heart is supplied by our emotions, so Thought + Emotions = Life. Our thought state and emotional state exist in relation to each another, they form a reaction circle through which they communicate and empower each other.
Putting positive thoughts into positive action
Decide to maintain a positive attitude regardless of the outcome and remind yourself that you can choose to have a positive attitude about the outcome. Healthy positive thinking is about making a conscious choice to be positive about your life right her and right now.
All the positive thinking in the world means nothing if we never carry those thoughts into positive action. Positive action is the force that can change the world.
Be the change that you want to see in the world.