What is a positive attitude? In short, a positive attitude is a mindset that allows you to see opportunities in life and to help yourself in your accomplishments. Having a positive attitude to life helps you to see the good in those around you
Having a positive attitude does not mean pretending that difficulties do not exist, rather it means having belief in yourself and in your abilities to overcome those obstacles and therefore, expecting positive results, regardless. It also means that you trust yourself to do the very best that you can, and that is enough!
Positive thinking benefits a positive attitude
What the mind expects, it finds, this is a very powerful FACT. If the mind expects joy, happiness, success, good health etc then you will experience that.
Positive thinking dramatically intensifies your chances of success in all of your endeavours. You are more likely to visualise positive situations or consequences and disregard the thoughts related to giving up, failure, or obstruction in your way.
So in essence our thoughts are not simply otherworldly pieces of data that form in our minds and then disappear, rather these words and ideas that we think can shape and mould our lives and drive us toward success and happiness or failure and distress.
When you maintain a positive outlook and consciously harbour only positive thoughts, you begin to create the conditions favourable to you achieving what it is, that you desire. You naturally feel in control and rarely get overwhelmed with any challenges that come your way because it is in your makeup to expect a positive outcome.
Remember staying positive may not have an instantaneous effect on your situation, but it will likely have a profound and immediate effect on your mood. For positive thinking to change your life, it must become your predominant mind-set. Once you embrace positive thinking, you'll start believing that everything that you desire is within your reach.
It is within your power to become as happy, content, or successful as you make up your mind to be.
How to maintain a positive attitude at work
We all know that not every workday will be an easy stress-free day. But if you're prepared to have a positive outlook even on the tough challenging days that could make for a better work environment.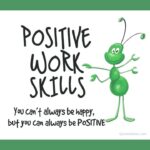 We have all experienced negative people and working alongside these kinds of people can quite literally be soul-destroying not to mention exhausting as they drain your energy. If you can keep a positive attitude you will be more receptive to working better and more efficiently and you will be more creative and able to think of solutions to any problems you encounter.
You might want to consider the following five tips to help you during your working day;
Surround yourself with other positive people. Find other people in the office that have a great outlook on life. These are your tribe!
Be kind to people. This can be challenging especially if you're busy but being kind to people costs nothing and make us feel better.
Resist the need to criticise another colleague, unless it is useful to them.
Don't react to those who go out of their way to annoy you, their behaviour is a reflection of who they are as a person and not your problem.
Don't worry about what other people think about you, it's actually none of your business! What is more important is what you think of your SELF.
Having a positive attitude at work can really be the key to your success. Folk want to be around positive people with an upbeat attitude.
Be one of those people.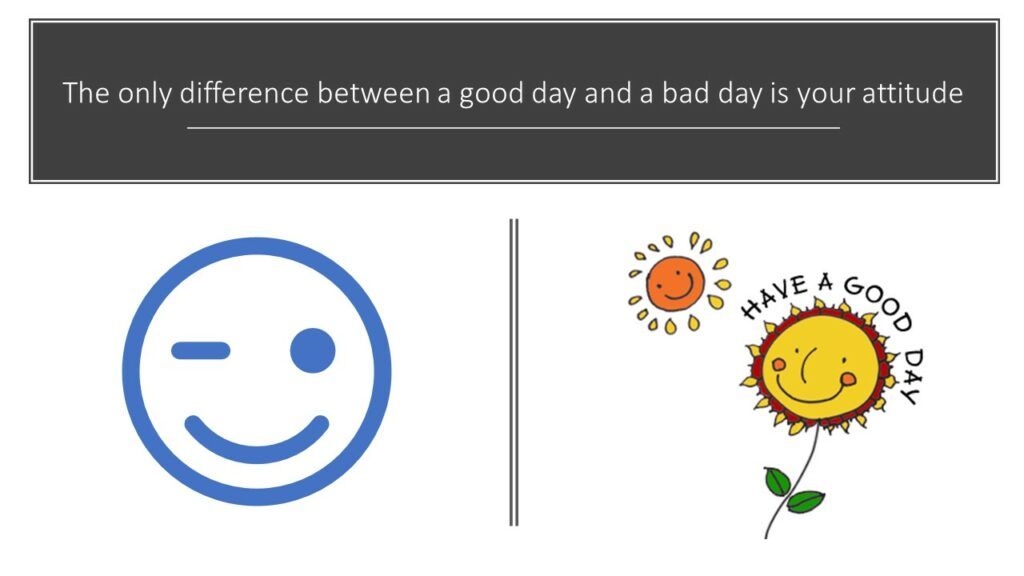 Does having a positive attitude help with your life goals?
Having a positive attitude and mindset brings about several productive changes in your thought process that can help you to be more successful in everything you do including achieving your goals in life. This confidence prompts you to work harder and to the best of your abilities, realising in some case hidden strengths and capabilities that only enhance your positive frame of mind.
A positive attitude therefore does have a positive effect and can make all the difference for you between success and failure in both your personal and professional life goals. In order to be successful at work or in life, you must first identify your goals.
This is where positive thinking plays a big part because the way you consider your strengths and weaknesses really determines your goals for life. Positive thinking makes you confident from within, which helps you to make all the right choices.
Realising short-term or long-terms goals is not always easy. Sometimes when we think life is smooth sailing, life throws a curve ball that leaves us blindsided and often our best-laid plans can be wrecked. Remaining positive during these trying times can certainly help you to stay focused and move ahead with single-minded willpower… it is only when you stay positive and strong-minded that you can focus and reach your goals.
How to stay positive in negative situations
The secret to remaining positive in a negative situation is not to allow the negative situation to affect your mind set, easier said than done especially in an age where we are regularly exposed to negative news online and negative people in life.
However, it is possible to stay positive and not to permit how you think and feel to be affected in those situations, similarly if you constantly think and focus on negative situations you are attracting more into your life.
Strive to make it a habit to replace each negative thought with a positive and optimistic one. You will need to be aware of the thoughts that are passing through your mind, and if they are negative, immediately shift your attention to other, happier and optimistic thoughts, banishing the pessimistic ones.
Staying positive in every situation that you encounter is a great skill, one which is worth acquiring and beneficial for life.