RAOK – Random Acts of Kindness
Random Acts of Kindness (RAOK) or as it is also more popular known "Pay it Forward" is actually an ancient tradition and can be found in great literature ranging from Ancient Greek comedies to Benjamin Franklin's letters.
"In the order of nature we cannot render benefits to those from whom we receive them, or only seldom. But the benefit we receive must be rendered again, line for line, deed for deed, cent for cent, to somebody"
~ Ralph Waldo Emerson
In today's world random acts of kindness or paying it forward gestures can have quite an impact on our environment. When we perform these acts not only does the recipient benefit greatly but the donor also benefits in a different sort of way.
The feeling you get as a benefactor is indescribable and priceless. Why not try it for yourself if you have not done so already?
Imagine the chain reaction that could be set in motion if everyone choose to "pay it forward" to at least two recipients who in turn paid it forward to another two recipients. The entire planet would benefit and could be completely transformed for the better. The knock-on effect both recipient and donor would be immense.
Everyone can help to make this happen, there is no skill or special requirements needed, you don't need to be rich or important you just need to be HUMAN.
What is the Pay it Forward System?
The Pay if Forward system is a concept or an idea of doing a good deed often anonymously (but not necessarily) in order to brighten someone else's day. There are no set or fast rules, you could be the one to initiate a "pay it forward" avalanche or you could contribute by doing a (random) good deed for a donor, whenever you benefit from someone else's good deed!
Ways to Pay it Forward
The excitement of paying it forward is such that you do not necessarily need to know the beneficiary. You can perform your good deed for anyone, all the better if they do not expect it. Once on a whim I paid for someone else's lunch before I left a restaurant by simply sweeping the room and selecting the recipient and asking the waitress to charge me for what they have consumed when I was paying for my own. I felt wonderful afterwards and a bit giddy knowing they would soon realise their lunch had been paid for by the universe!
"Carry out a random act of kindness, with no expectation of reward, safe in the knowledge that one day someone might do the same for you" ~ Princess Diana
I believe that performing a good deed for a stranger is a noble act. It will hopefully remind them that this planet is full of generous and kind people and it will encourage the benefactor to be kinder and more empathetic to others they encounter, a great knock-on effect.

Look out for the opportunities that life provides you with, there are numerous opportunities to Pay it Forward, if you are vigilant.
As indicated above be willing to help complete strangers. You may not always have an opportunity to perform good deeds for your close friends or family but there is always someone in need who do you with your help.
As quoted above we should give freely without expecting anything in return. Safe in knowledge that you will reap the rewards in the future.
If you are ever in the position that someone asks you how they can repay you your act of kindness, introduce them to the concept of Paying it Forward and tell them that you don't expect anything in return, but that you would greatly appreciate it if they could pay the good deed forward.
There are numerous examples to pay it forward and I have outlined below some of my favourite ones that will not break the bank but will fill your life with oodles of good and positive vibes.
Pay it Forward Examples
Clothes Bank or Charity shop donations. Do a clear out of your wardrobe and drop any unwanted items of clothing that are in good condition to your nearest clothes bank or charity shop.
Got a birthday coming up? Why not ask those who normally buy you presents to make a donation on your behalf instead to your favourite charity or good cause. You get to be part of something good but without the expense. Win/Win.
Spare change, we all have it and it usually weighs down our purse or wallet. Why not throw your spare change into a vending machine, parking ticket meter or a car toll whenever you have an opportunity for the next person in line to benefit.
Be a mentor, this can be within your working environment, perhaps some new has started and needs some guidance or needs a friend, or this can be in a sport that you have an interest or experience in, you could volunteer your time to mentor or coach younger people or children.
Donate your blood. What better way to help another human by donating your blood and potentially helping to keep someone alive.
Donate your time to humans. There are many elderly folk in retirement or nursing homes that have no one who comes to regularly visit them. My mum spent a good number of years in a nursing home before she passed last year and it was heartbreaking to watch so many elderly folk sitting alone with no family to visit. I found on my visits to my mum that my children, her grandchildren were especially welcomed by the residents, often looking to interact with them as we passed by, eager to talk with them or hold their hands, I suspect a human's touch was very rare to most of these folk outside of the nursing staff.
Donate your time to animals. Visit your nearest animal shelter and volunteer your time to take a dog for a walk or spend some time with the animals. I'm sure you will be well-received by those who often work voluntarily in these sanctuaries.
Let someone jump the queue, this is a very easy one and can be done almost on a daily basis, when you're standing in line or at the supermarket checkout, let someone behind you go in front of you.
Books, we all have them, most of us adore them but I've no doubt we all have ones that we've read and are unlikely to ever read again. You could donate these to your local charity shop, second hand bookshop or local library. Alternatively, there is a worldwide community known as BookCrossing which is the act of releasing your unwanted books "into the wild" for a stranger to find. The community is over 1 million strong and is made up of generous book-lovers who are changing the world and touching lives one travelling book at a time!
Homeless people. There are so many things you can do for a homeless person, but sometimes it requires on the spot thinking as they often have a tendency to move on, or be moved on quickly. I tend to buy them a coffee/tea and some food if they are sitting outside a shop or café or if they are situated outside a supermarket, I will buy them packets of easy to eat food, often sugary treats, really the opportunities here are limitless.
Pay for someone's coffee/lunch. When buying a coffee, you can easily pay the coffee or tea of the person behind you. What better way to brighten their day and mood!
Pay it Forward Inspirational Quotes
"Service to others is the rent you pay for your room here on earth." ~ Muhammad Ali
"When you learn, teach. When you get, give." ~ Maya Angelou
"We make a living by what we get; we make a life by what we give." ~ Winston Churchill
"As we work to create light for others, we naturally light our own way." ~ Mary Anne Radmacher
"If you can't pay it back, pay it forward." ~ Catherine Ryan Hyde
"One can never pay in gratitude: one can only pay 'in kind' somewhere else in life." ~ Anne Morrow Lindbergh
"Life engenders life. Energy creates energy. It is by spending oneself that one becomes rich." ~ Sarah Bernhardt
Track the Butterfly Effect of Kindness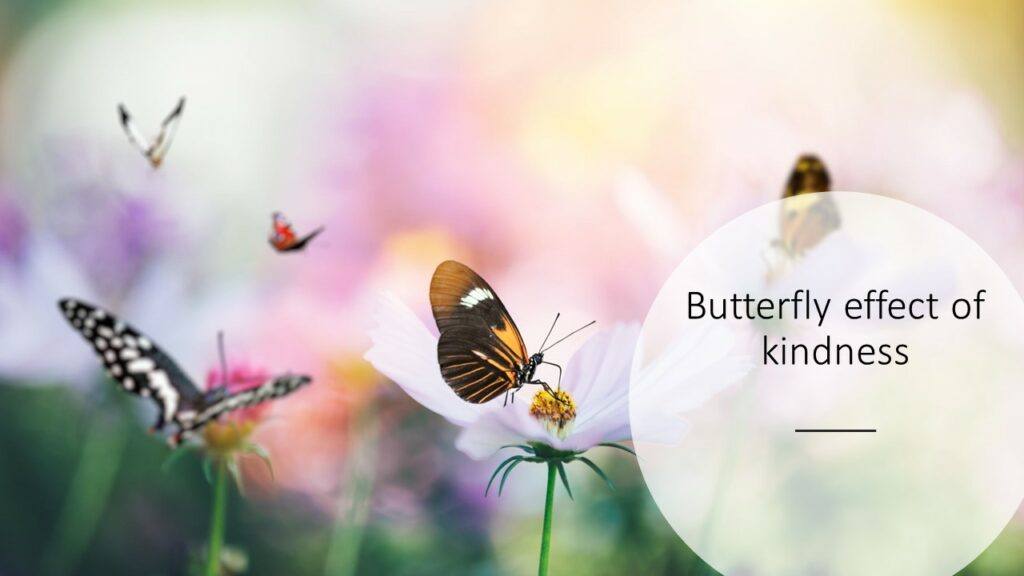 I came across this wonderful concept which is a sister site to BookCrossing. It really is very simple, yet the effects are profound. Why not check it out for yourself.
Each Butterfly Coin inspires and tracks the butterfly effect of kindness. By carrying one of these solid brass coins in your pocket or purse, you're reminded to look for opportunities to help someone, be they friend or stranger. Pass along your coin to them along with your kind deed, and encourage them to pay it forward.