I read this book as a young adult and it was another recommendation from my father who thought I would enjoy it, he was not wrong, and I'm pretty sure it may have changed my life.  The book was self-published in 1993 and published by Warner books in 1995.
On 18th September 2018 this edition was reissued by Grand Central Publishing under the following jacket.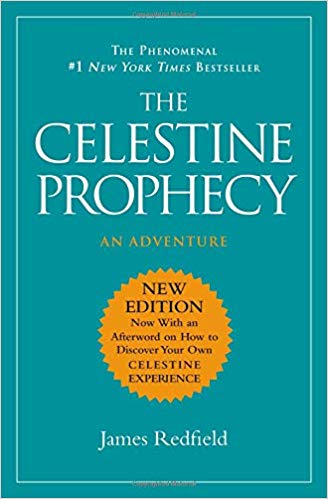 Book Review
Title: The Celestine Prophecy
Author: James Redfield
Purchase: Amazon
Paperback: $10.74
Hardcover: $17.00
Kindle: $6.06
Audio CD: $42.47
About the Author
James Redfield is the author of The Celestine Prophecy and The Tenth Insight. He writes widely on the topic of human spiritual awareness and is active in the worldwide effort to save our last remaining wilderness areas. James lives with his wife, Salle, and cat, Meredith, in Alabama and Arizona. [source: Goodreads]
Quotes by the Author
"…Dreams come to tell us something about our lives that we are missing." ~James Redfield
"Where Attention goes Energy flows; Where Intention goes Energy flows!" ~James Redfield
"I don't think that anything happens by coincidence… No one is here by accident… Everyone who crosses our path has a message for us. Otherwise, they would have taken another path, or left earlier or later. The fact that these people are here means that they are here for some reason"…" ~James Redfield
"We must assume every event has significance and contains a message that pertains to our questions…this especially applies to what we used to call bad things…the challenge is to find the silver lining in every event, no matter how negative" ~James Redfield
About the book
Written by James Redfield the book discusses psychological and spiritual concepts deeply rooted in ancient Eastern traditions and New Age spirituality. It also discusses how opening oneself to new possibilities can help an individual create a connection with the divine.
The Celestine Prophecy contains secrets that are currently changing our world. Drawing on ancient wisdom, it tells you how to make connections among the events happening in your own life right now including synchronicity!
The story it tells is a gripping one of adventure and discovery, but it is also a guidebook that has the power to crystallize your perceptions of why you are where you are in life…and to direct your steps with a new energy and optimism as you head into tomorrow.
Book Praise
"A gripping adventure story filled with intrigue, suspense, and spiritual revelations." – Commonwealth Journal
"A spiritual classic…a book to read and reread, to cherish, and to give to friends." – Joan Borysenko, PhD, author of Fire in the Soul
"In his inimitable style of great storytelling, Redfield opens us up to a world of insight, inspiration, synchronicity, and power." – Deepak Chopra
[source: Amazon]